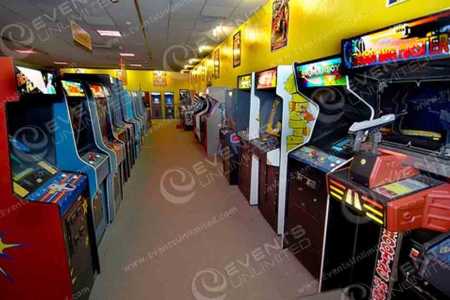 We have an amazing assortment of arcade game room options- and we offer full service game room solutions for large groups.
Whether you are planning an event for 100, 200, or for thousands of guests- we are here to provide the best in game room entertainment.  With all kinds of classic arcades, modern gaming stations outfitted with xbox, wiii, play station, with wireless controls, 3d options, and more.  We have shooting games, driving games, fighting games, sports games, pool tables, air hockey, foosball, double shoot hoop games, golf games, sit down table games, amazing fortune tellers, and much more…  Essentially our game room rental options and arcade game rentals can be tailored to meet the needs of your special event.
Our core competency is providing large scale event solutions with all kinds of entertainment and interactive options.  We can also handle the production of your entire event- with catering, venue arrangement, logistics management, travel management, and much more.  When it comes to planning a special event- you can count on Events Unlimited to meet all your needs.
No matter what type of corporate event, picnic, holiday party, community festival, fundraiser, or other special gathering you have in mind- we have the solution.  Our event planning and production specialists work hard to ensure that your event goes great, and that all aspects are executed with precision.
When you are looking for a provider who goes above and beyond.  When you are looking for a provider with passion.  Count on Events Unlimited.